A little about us…
Founded in 1949, third-generation owners-operators would like to welcome you to Gossage Jewelers. Come in, get to know us, and wrap us around your finger.
Fine jewelry sales, remounts, and full service jewelry repair is a portion of what we offer.  We also provide and install watch batteries and repair and service many watches.  We re-string knotted strands of pearls.  We buy gold and diamonds.
For nearly seven decades we have served the needs of West Nashville with honesty, integrity, and pride. Located in the heart of the Charlotte Avenue corridor, we serve your jewelry needs in our city that is ever-changing.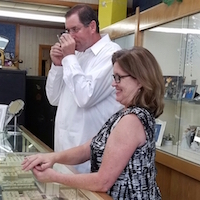 Lesa Gossage Cart and Chuck Gossage, 3rd generation,  are sibling co-owners. Having worked together for a lifetime, their expertise is unmatched.  The duo, together with their experienced staff, work hard to ascertain a relaxed, confident environment for your needs to be met in jewelry purchasing and repair requests.  They have access to many among the best known names in the industry including Citizen, JC Blackburn, Timeless Designs, Gordon Clark, and Hugo Kohl. They offer competitive purchasing of your scrap gold and trade in jewelry, including diamonds.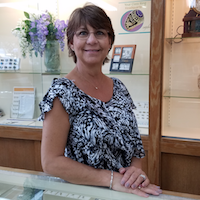 Kim Gossage had worked Holiday and vacation fill-in for Gossage Jewelers for 32 years.  She came to Gossage Jewelers full time 13 years ago. In that time she has developed a large customer base and has learned the business from her husband and sister-in-law. Having been a nurse for so long, Kim feels her strong point is personal touch.  She strives to assist you and your jewelry needs to match your personality and budget.  Kim loves a happy customer!
Kari Cart Mayer, 4th generation,   joined Gossage Jewelers after having owned Kari's Jewelers for 6 years. She brings with her expertise in customer service, office management, and pearl restringing.  Comfortable with all aspects of the business, she will guide you toward the best solution for your jewelry needs.  Kari looks forward to assisting you.
Steven Gossage, 4th generation, comes to Gossage Jewelers after a 6 year career in management.   Glad to be back "home", he is confident in assisting you in your greatest or smallest jewelry need.  Like his grandfather and father, he has proven to be a very skilled bench jeweler. With 8 combined years of jewelry repair experience (as of September 2019), he makes Gossage Jewelers proud to return to you your repaired and restored jewelry.  Steven is confident in customer service and he brings a fastidious mark of excellence to his repair service.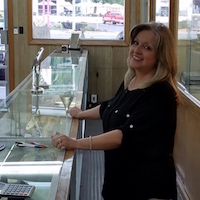 Robbin Elizer is a customer favorite and a faithful employee for over 30 years.  She and her husband have raised their children,  and have attended schools and church in West Nashville for most of their lives.  They  are vital members of this community.  Robbin has an easy way of assisting you with your jewelry needs. She is an expert at pearl restringing and is skilled in office management and merchandising.  Robbin is a valuable asset to Gossage Jewelers.